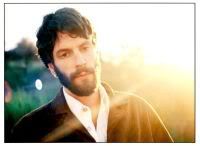 How in the world did I never hear of him!?
I discovered this gem of a singer-songwriter on Amazon.com, of all places. Talk about amazing. This guy has such a classic sound. I'm buying his CD. He's just too good to pass up. Apparently he's a big hit in the UK.
Check out these two vids of live performances. His breathy, raspy voice makes you want to float away on a frickin' cloud...