The calendar I look at everyday is an animal calendar. It was a freebie from the maintenance guy at work.
October's calendar feature is the gorgeous elk:
The picture below is the same exact picture on my calendar for next month: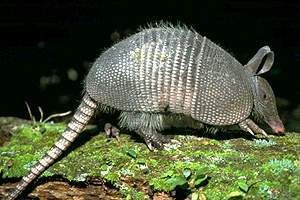 Now honestly, who the hell wants to look at a damn armadillo for a solid 30 days!? This animal is like a friggin' rat with furry snake-skin armor! (Can I get a "yuck?")
I can tell you one thing, the next time I start complaining about the cold weather up here, you best believe I'll be thinkin of the armadillo and thankin' my lucky stars.
Apparently these suckers don't survive for long in low temps.
Note: Unfortunately, no armadillos were harmed in the making of this post.