Here are the presidential debate dates in case anyone's interested.
Personally, I am so excited I can hardly contain myself. I may just throw a "Political Party" and invite some friends over for each debate.
No alcohol though... I don't want anyone killing each other.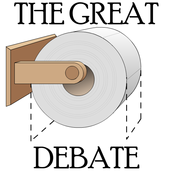 From Wikipedia:
Three presidential Commission on Presidential Debates (CPD) debates have been scheduled for 2008:
Friday, September 26, 2008
at the University of Mississippi's Gertrude C. Ford Center in Oxford, Mississippi, moderated by Jim Lehrer, executive editor and anchor of The NewsHour on PBS. This debate will focus on Foreign Policy & National Security.
Tuesday, October 7, 2008
at Belmont University's Curb Event Center in Nashville, Tennessee, moderated by Tom Brokaw, special correspondent for NBC News. This debate will have a town-hall meeting format.
Wednesday, October 15, 2008
at Hofstra University's David S. Mack Sports and Exhibition Complex in Hempstead, New York, moderated by Bob Schieffer, CBS News chief Washington correspondent and host of Face the Nation. This debate will focus on Domestic and Economic Policy.
One vice-presidential CPD debate has been scheduled:
Thursday, October 2, 2008
at Washington University in St. Louis' Field House Gymnasium in St. Louis, Missouri, moderated by Gwen Ifill, senior correspondent on The NewsHour and moderator and managing editor of Washington Week on PBS. Topics have not been set for this debate as of yet.